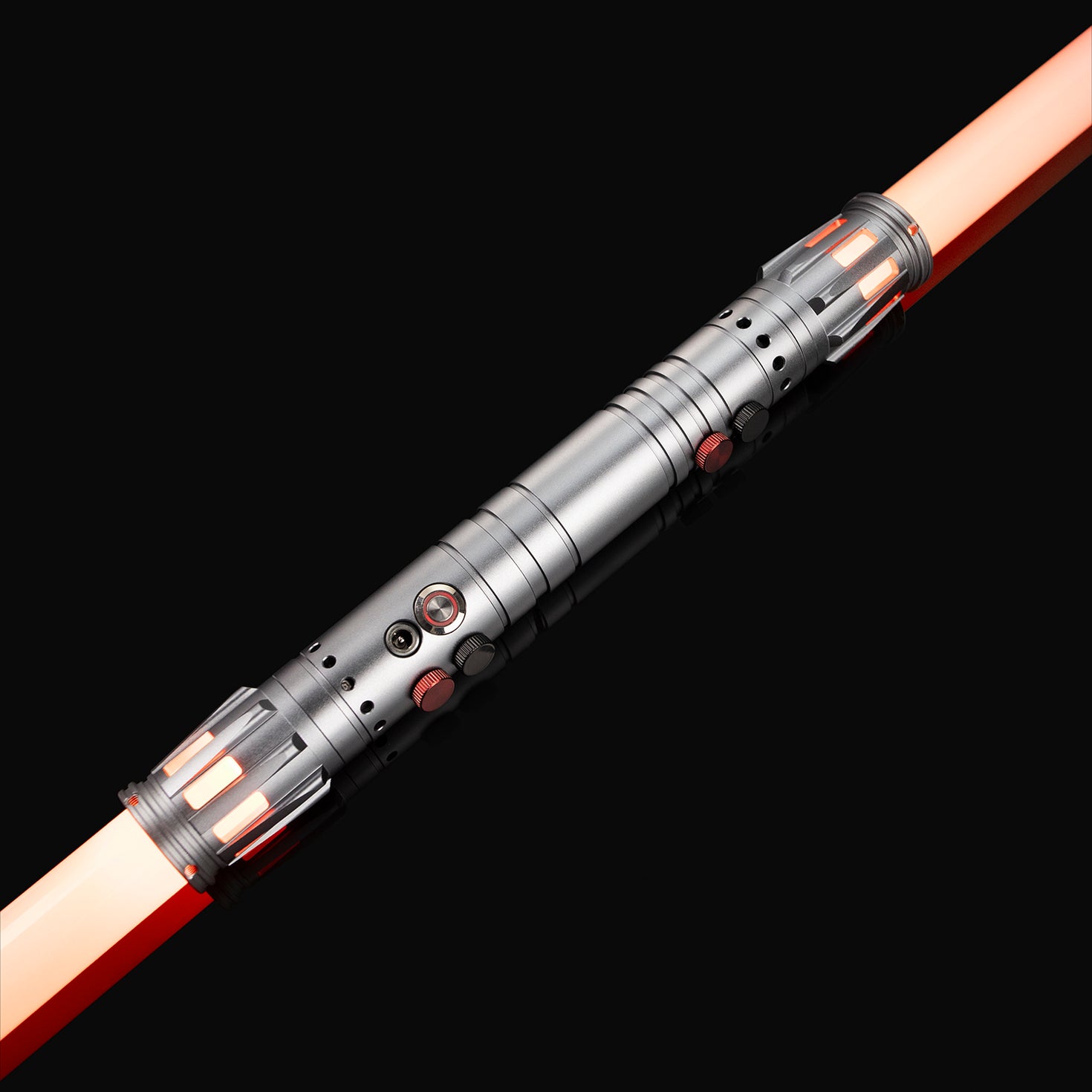 PRODUCT INFORMATION
Detailed specs
What's in the box ?
Shipping
CUSTOMER REVIEWS
PRODUCT INFORMATION
The Smaul is a double bladed lightsaber with a regular size hilt inspired from Darth Maul's iconic design. Boy' we proud of the name  😂
We even fancy a special openwork emitter design on both sides. Come on ... this has got to be the best dueling lightsaber out there. The hilt has one electronics module powering and controlling the 2 emitters at the same time. This sabers comes equipped with 2 blades ! Choose between our three colors and you're ready to go terrify your ennemies.

Like all of our amazing sabers, this hilt is made of aluminium 6063. Every saber boasts stunning finishes on a great build with strong materials to offer either the best reproduction of a legendary design or a very comfortable and yet stylish dueling weapon.


SABER CONFIGURATIONS
Here's a simple breakdown of our available configurations. See our "Which version to choose ?" info box above for more details.
🥉Standard :

the base model now with a Xeno 3 board, featuring rich sounds, lots of effects and customizable through a mobile app or via SD card. Standard sabers are baselit sabers with a lighter blade made for heavy dueling. Perfect if you plan on doing cosplay or stunt/duel performances or if you simply don't need the neopixel blade.

🥈Premium : it's our most wanted option! The same brand new Xeno 3 board but with a neopixel blade. The high density LED strip in the blade allows for an amazing look and tons of visual effects. Now customizable through a mobile app and, as usual, via the SD card.


DIMENSIONS
📐 Dimensions of the hilt :

2

8.5 

cm /

11.2

 inches in

 

length, weighs approx. 340

 

g / 0.75 lbs

📐 Dimensions

 of the blade :

it's our 1 inch diameter standard, then you

choose between 72, 82, 92 cm (28, 32 or 36 inches) for the length. Polycarbonate thickness is 2mm for Standard sabers and 3mm for Premium and Deluxe sabers.
📏 Recommended length of your lightsaber : a lot of academies and fencing federations request that the total length of your dueling saber stays between 100 and 110cm (39.4 to 43.4 inches). The blade usually sits inside the hilt for about 5 to 7 cm (2 to 3 inches). If you mean to use your saber in an official setting, be careful and choose the appropriate size, if you don't care for this, go for the longer blade length : 36 inches / 92 cm.
USABILITY CHART
Key criterias for duelists is Handling and Weight, for cosplayers it is Style and ease of Maintenance, and for collectors it is mostly Style.
If you have any questions about our sabers feel free to reach out to us through the chat, we speak english and french.
THE STAR WARS CAST AND DIRECTORS
LOVED OUR SABERS
Entertainment Weekly trusted us to bring top quality sabers for their video interviews. The cast and crew of Star Wars series like Ahsoka and The Acolyte had so much fun with our lightsabers. Jude Law said they "looked awesome", Jon Favreau wanted to make sure the lightsabers were accurate before sitting on the chair, Rosario Dawson, Dafne Keen, Charlie Barnett, Andy Serkis and many more played with them for so long. If they loved 'em, you'll love them too !